The Problem Today
Overeating is increasingly becoming a problem in Singapore and in Asia. More people are exceeding their daily recommended calorie intake. It could due to reasons like:
Having a sedentary lifestyle.
Work stress.
Food addiction.
Spoilt for food choices.
According to recent papers, research done by the Singapore Health Promotion Board showed that people are becoming more active in recent years but they are now consuming more calories, outweighing any benefits to their health.
This tea is for you if you are:
Too busy to think about a proper diet plan.
Would like to maintain healthy blood pressure, LDL (low-density lipoprotein) levels and blood sugar levels.
Limit your weight gain by raising your metabolism naturally.
Enjoy more sugary and savoury treats with less guilt.
Experiencing food coma constantly after meals.
Three (3) benefits of drinking Mosanco Tea daily:
Naturally increasing body metabolism, which may aid in better weight management with zero laxatives added.
Slow down carbohydrate intake within the gastrointestinal tract after meals and desserts.
Maintain healthy blood pressure, LDL (bad cholesterol) and blood sugar levels.
Moreover, Mosanco Tea contains high levels of EGCG (epigallocatechin gallate), a widely-recognised antioxidant polyphenol that rejuvenates and maintain healthy cells, while at the same time, providing a detoxifying effect for bodies.
How does it work?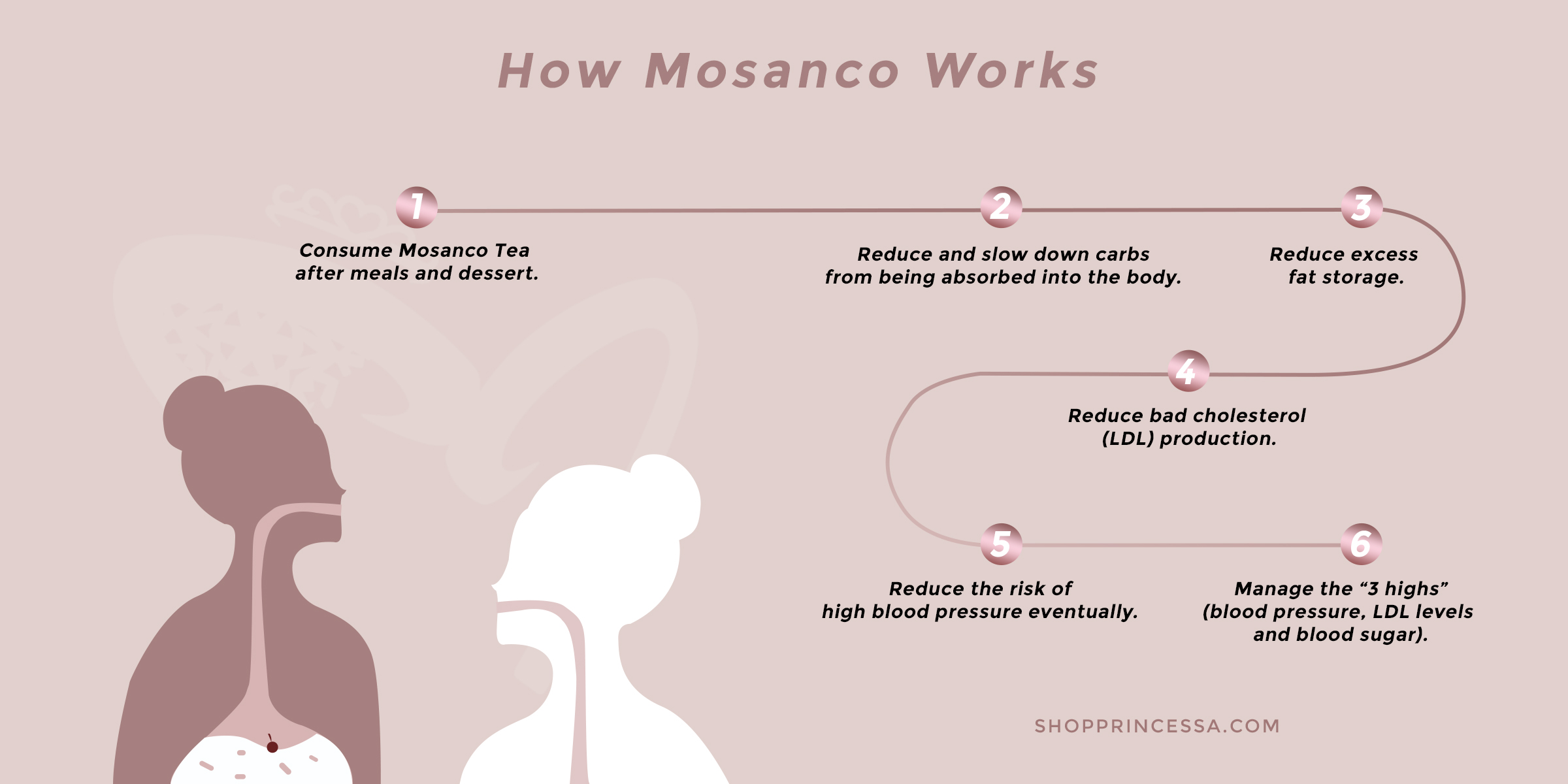 Premium Australian Cowplant is a natural herb that traces back to 2,000 years ago, with origins that can be found in India, Africa and Australia. It has a rich history of being used in traditional medicine to control blood sugar levels, stimulate digestion while aiding weight loss. Research has highlighted the effectiveness of Australian Cowplant in reducing blood sugar levels and also for weight loss.
Whereas for our premium green tea, it has been widely known for its antioxidant and detoxification properties. utilised for centuries in Asia, it is very effective in increasing metabolic rate and provides anticarcinogenic effects via its antioxidant EGCG.
What's more, our ingredients are all cultivated and harvested in the Asia Pacific, allowing us to prepare only the best for you!
Live a happier, healthier life in today's fast-paced society, starting with a refreshing cup of Mosanco Tea right after your meals!
* Information given here is only for informational purposes and is not intended to diagnose, treat, cure or prevent any disease.