PRINCESSA Immunity Gummies
Also known as a super fruit in the US, our PRINCESSA Immunity Gummies contains the essence of these amazing black elderberries that are increasingly being recognised for their health benefits. These gorgeous shiny, dark purple gems of vitality come packed with tons of antioxidants, high in dietary fibre, potassium, necessary minerals and vitamins.
From: $ 29 Excl. GST / month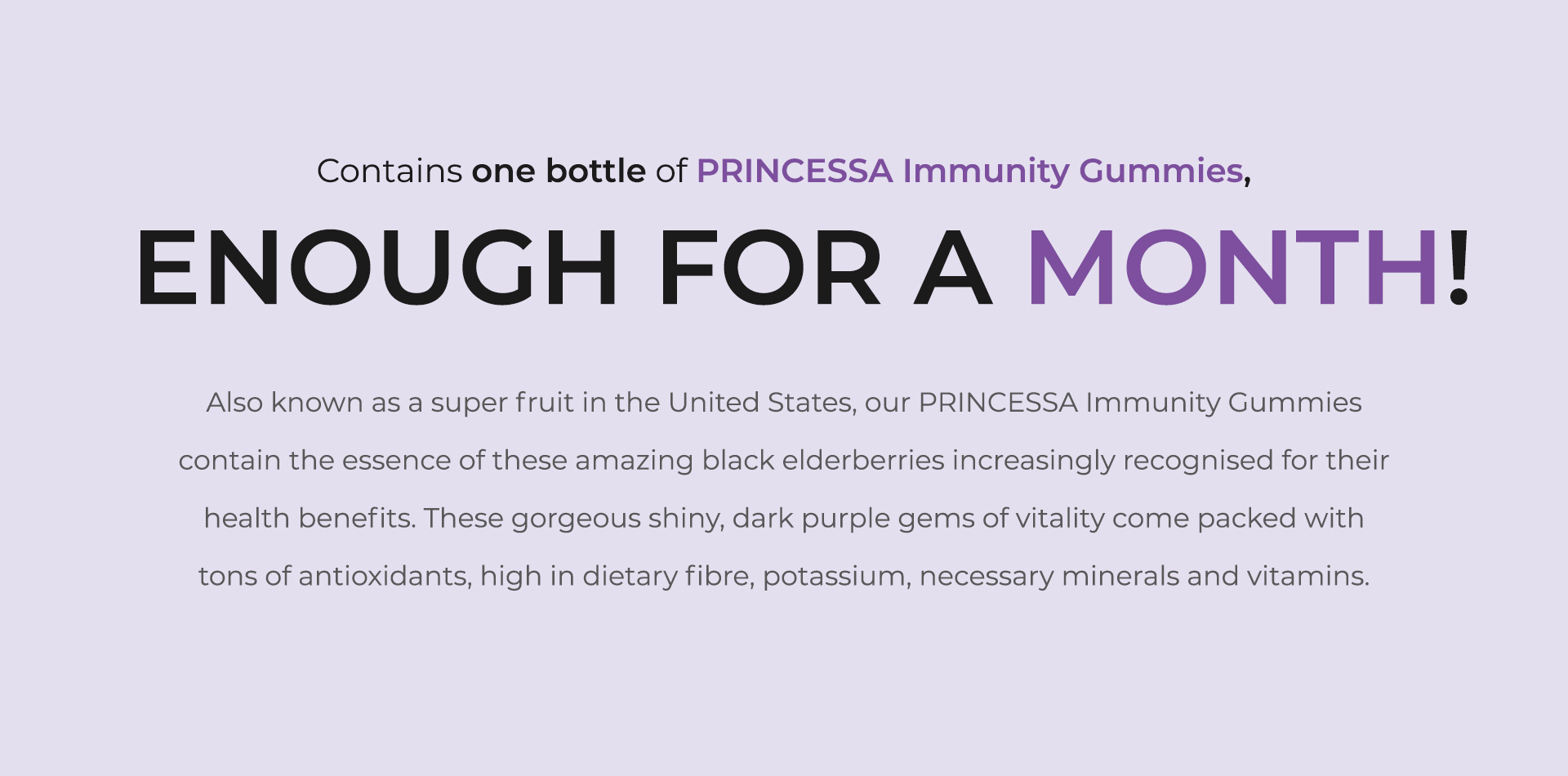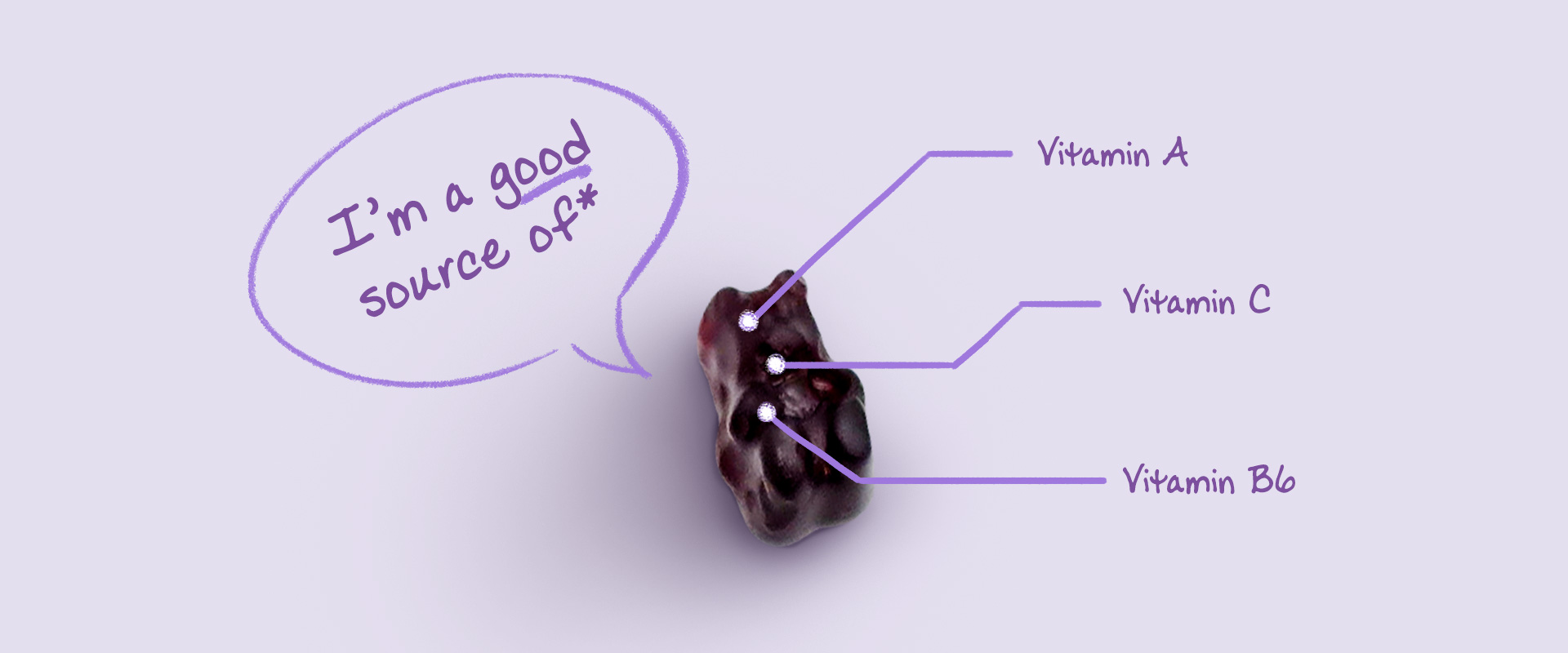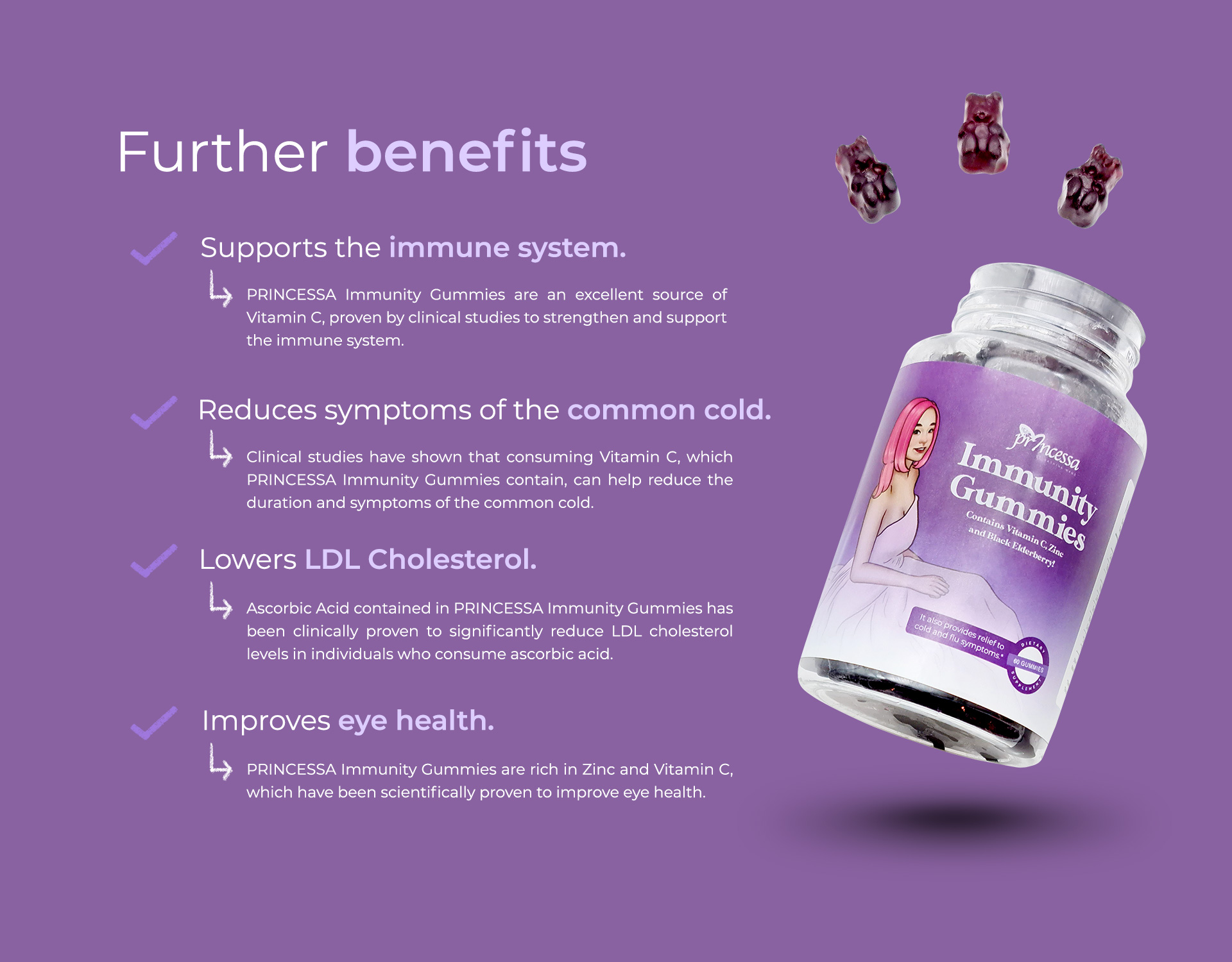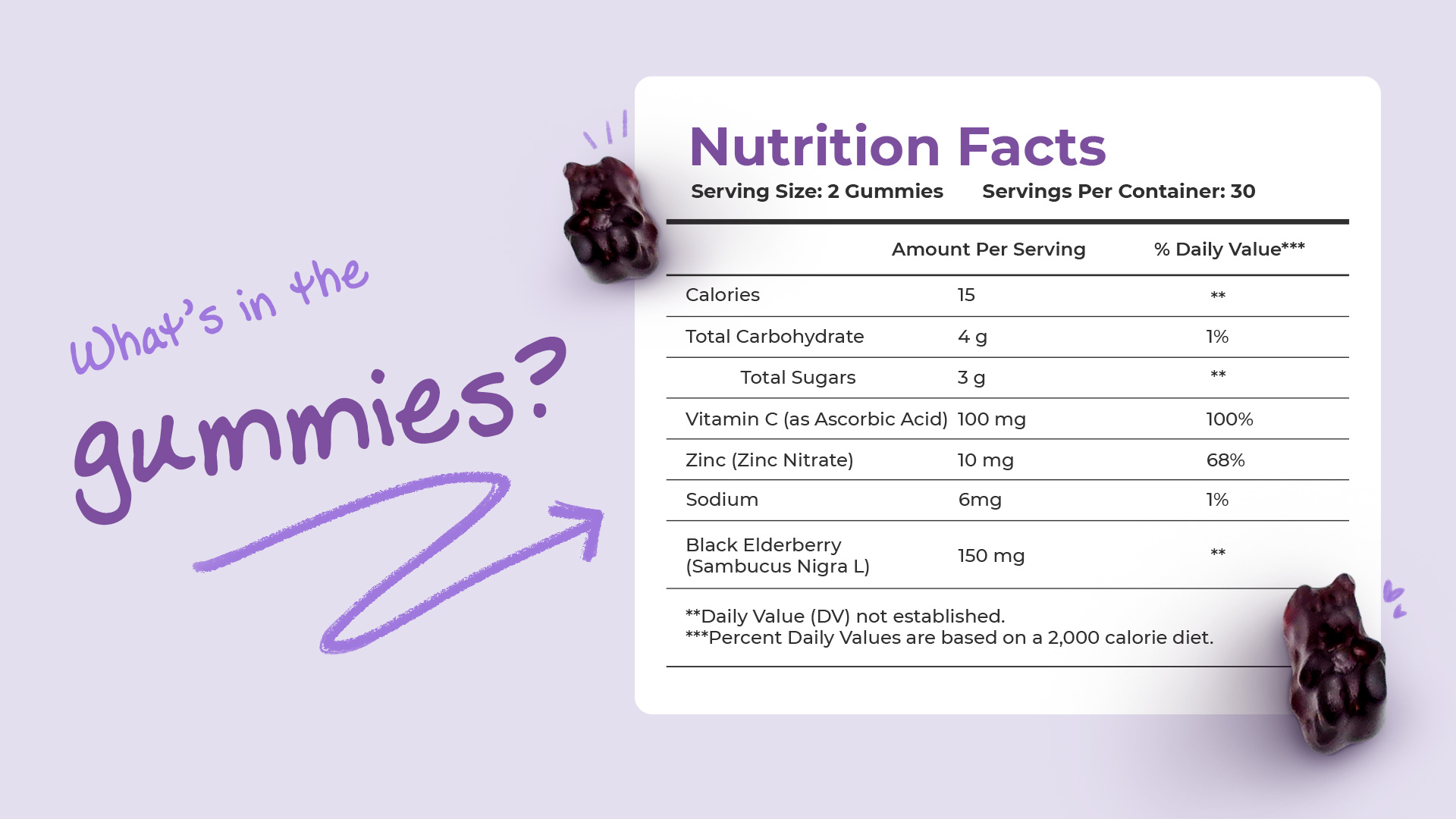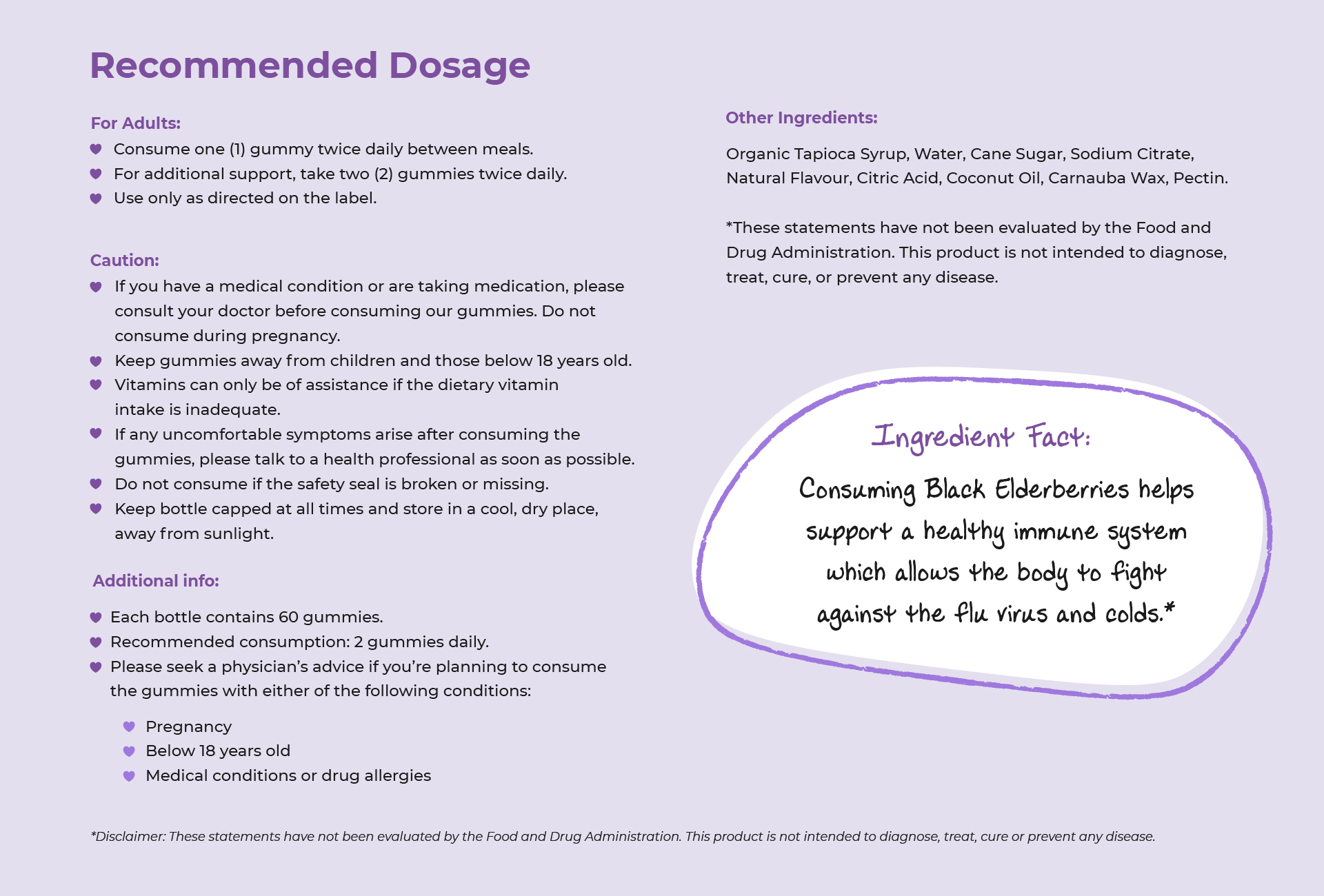 Only logged in customers who have purchased this product may leave a review.
Overview
Jeans & Trousers
Shoes
Belts
International Sizes
| SIZE | XXS | XS | S | M | L | XL | XXL |
| --- | --- | --- | --- | --- | --- | --- | --- |
| UK | 2 | 4 | 6 | 8 | 10 | 12 | 14 |
| EU | 30 | 32 | 34 | 36 | 38 | 40 | 42 |
| US | 00 | 0 | 2 | 4 | 6 | 8 | 10 |
| FRANCE/SPAIN | 30 | 32 | 34 | 36 | 38 | 40 | 42 |
| GERMANY | 28 | 30 | 32 | 34 | 36 | 38 | 40 |
| ITALY | 34 | 36 | 38 | 40 | 42 | 44 | 46 |
| JAPAN | 1 | 3 | 5 | 7 | 9 | 11 | 13 |
| KOREA | 33 | 44 | 55 | 66 | 77 | 88 | 99 |
Jeans & Trousers Sizes
| SIZE | XXS | XS | S | M | L | XL | XXL |
| --- | --- | --- | --- | --- | --- | --- | --- |
| BUST | 30 | 32 | 34 | 36 | 38 | 40 | 42 |
| WAIST | 25 | 27 | 29 | 31 | 33 | 35 | 37 |
| HIPS | 36 | 38 | 40 | 42 | 44 | 46 | 48 |
| LEG | 32 | 34 | 36 | 38 | 40 | 42 | 44 |
Shoes Sizes
| EU | 35 | 36 | 37 | 38 | 39 | 40 | 41 | 42 | 43 | 44 | 45 |
| --- | --- | --- | --- | --- | --- | --- | --- | --- | --- | --- | --- |
| US | 5 | 6 | 6.5 | 7.5 | 8.5 | 9 | 9.5 | 10 | 10.5 | 12 | 13 |
| UK | 3 | 4 | 4.5 | 5.5 | 6.5 | 7 | 7.5 | 8 | 8.5 | 10 | 11 |
| MEXICO | - | - | - | 4.5 | 5.5 | 6 | 6.5 | 7 | 7.5 | 8 | 9 |
| JAPAN | 21 | 22 | 22.5 | 23 | 24 | 25 | 25.5 | 26 | 27 | 28 | 29 |
| KOREA | 228 | 235 | 238 | 245 | 251 | 254 | 257 | 260 | 267 | 273 | 279 |
Belts Sizes
| SIZE | S | M | L | XL | XXL | XXXL |
| --- | --- | --- | --- | --- | --- | --- |
| WAIST | 28-30 | 32-34 | 36-38 | 40-42 | 44-46 | 48-50 |
| END TO END | 41 | 44 | 47 | 51 | 54 | 55 |